PARENTS
Letters
23rd June 2022
Please see the following link about E-Bikes and E-Scooters from Liverpool City Council. E-bikes E-scooters June 2022.
21st June 2022
Dear Year 6 Parents,
Please find below a link to an anonymous survey regarding your recent experience of the secondary school admission and appeals process in Liverpool:
https://ljmupsych.qualtrics.com/jfe/form/SV_9o5PpLZKaWAmQaq
This is an independent piece of research carried out by Liverpool John Moores University Legal Advice Centre, who will report their findings, based on the information families provide, to Liverpool City Council. This will be used to better understand what is working for parents, and what areas may need further support/work. Please see further information at the following links. LAC SCHOOL ADMISSIONS COVER LETTER, Printable Schools Admissions and Appeals Survey Participant Information Sheet
28th April 2022
The Liverpool ASD Training Team are providing a series of virtual drop in advisory sessions via zoom.  They are for parents/carers wishing to talk in a private one to one setting about any questions or concerns they may have about their child. You do not require a diagnosis of ASD to book your place. Please click the following link for more information, ASD Virtual Drop In dates
27th April 2022
Dear Parents and Carers, 
Young Person's Advisory Service (YPAS) are running a virtual coffee event on Wednesday 4th May 2022. The theme is around debt and finance management. If you would like to book your place please see details below.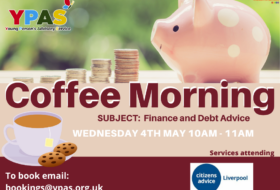 f
Dear Parents and Carers,
I am writing to inform you that Mr Mair will be going on paternity leave for the Summer term 2022.
Year 4 will be taught by Mrs Mahmood during the rest of the academic year.
Mrs Mahmood has previously worked in our school and will already will know some the children.
I am sure you will join me in welcoming Mrs Mahmood and wishing Mr Mair well during his leave.
Yours Sincerely,
Miss Connearn
Executive Headteacher
~ ~ ~ ~ ~ ~ ~ ~ ~ ~ ~ ~ ~ ~ ~ ~ 
Dear Parents,
Tomorrow Friday 8th April, Year 5 will be visiting Sefton Park. We will be travelling using the school minibuses.
Children are to wear their school uniform as usual. Please ensure that your child is wearing suitable footwear and has a waterproof jacket in case of rain, or a hat and sunscreen if it is sunny.
The children must come in to school on time for 8.45 am to ensure that they can take part in our class trip. We will be back in school at 12 pm. 
Yours sincerely,
Mr Bruce
Year 5 Class Teacher
Our new playground equipment
The KS2 children have been very excited to use our new playground equipment. We have new climbing frames, football/netball goals, outdoor classroom, chalk boards, seating and shaded areas, noughts and crosses, tic tac toe and a giant stopwatch to help us improve our daily mile times.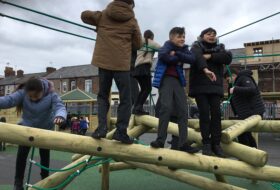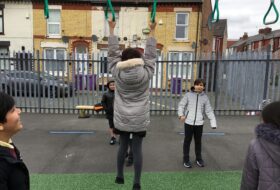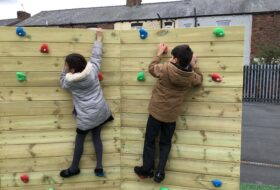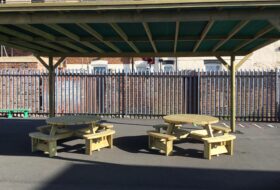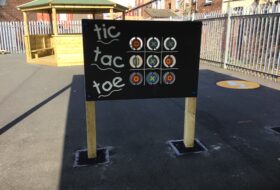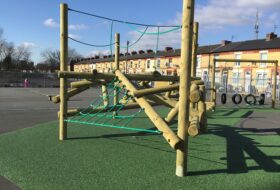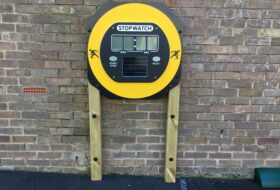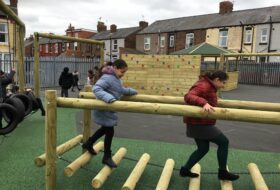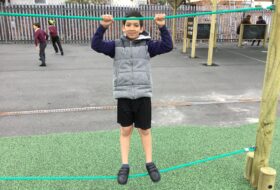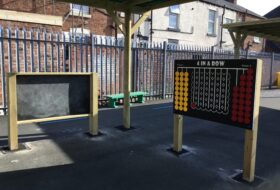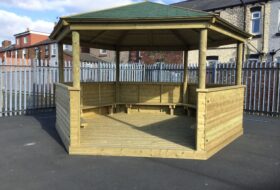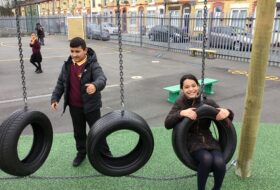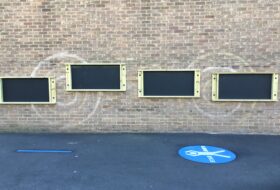 Dear Parents 
Can you spare a few hours a week to become a reading helper at our school?
Our school is working with a charity called Coram Beanstalk and are looking for volunteers who can spare an afternoon or two a week to come in to school as a reading helper. Holding reading sessions with some of our children on a one-to-one basis, giving those that need it extra support to practise reading skills outside of the classroom. It's a fun role that's about much more than just listening to children read.
Coram Beanstalk help children become readers; equipping reading helpers to help children switch onto reading, learn to read and become confident independent readers. Reading helpers are trained in a proven approach and will lead sessions for each child that bring fun and enjoyment to the reading experience, ultimately wanting the child to choose to read and be enthusiastic about it!
Reading helpers read to the child, talk about what they have read, check understanding and encourage thinking and conversation based on a book. They use fun book based activities to reinforce understanding, develop vocabulary and further cement enjoyment through a positive reading experience. We know this approach works and raises reading attainment, with 1-1 sessions bringing additional benefits of improving confidence, self-esteem and attitude to learning.
If you would like to become a reading helper at our school, or you know someone, perhaps a grandparent or a neighbour who would like to join our friendly school community please do consider this role. 
For more information or if you want to apply online, visit the website at www.corambeanstalk.org.uk and complete an application form.
You can also follow us on Twitter (@beanstalkreads) or Facebook (@beanstalkreads) and visit our website www.corambeanstalk.org.uk.
Many Thanks, 
Coram Beanstalk
Dear Parent/Carer
RE: NSPCC's Speak out. Stay safe. online programme
I am pleased to tell you that this term we will be participating in the NSPCC's Speak out. Stay safe. online programme. This consists of an online assembly and supporting classroom based activities. Speak out. Stay safe. is a safeguarding programme available to all primary schools in the UK and Channel Islands. It aims to help children understand abuse in all its forms and to recognise the signs of abuse in a child friendly way. Children are taught to speak out if they are worried, either to a trusted adult or Childline.
In the online assembly, the Speak out. Stay safe. messages are delivered in a fun and interactive way with the help of their mascot Buddy as well as special guest appearances from Ant and Dec.
We have studied the content of the materials and are extremely confident that they are appropriate for primary-school-aged children. By the end of the programme, we're convinced children will feel empowered – knowing how they can speak out and stay safe.
If you would like to know more about the Speak out. Stay safe. programme you can find information on the NSPCC website www.nspcc.org.uk/speakout or I would be happy to discuss any questions that you may have.
Adapted assembly for home use
The NSPCC has also developed an adapted version of their assembly for parents/carers to use at home with their children.  This can be found here: www.nspcc.org.uk/keeping-children-safe/support-for-parents/safety.  With the help of celebrities, the film focuses on how a child can get support if they have any worries or concerns.
To complement the assembly, there are some resources that can be used to enable further discussion whilst doing activities with your children.  These are hosted on the NSPCC website www.nspcc.org.uk/activities.  
Childline Under 12's Website
Childline also have a website with age appropriate advice for primary school children on topics such as bullying.  It also has games and other interactive tools. Your child can visit it at www.childline.org.uk/kids.
If you'd like to know more about the NSPCC's work, or take a look at the wide range of information and advice which is available for parents and carers, please visit their website www.nspcc.org.uk/parents.
Talking PANTS with your children
Talk PANTS is a simple conversation to help keep your child safe from sexual abuse. From P through to S, each letter of PANTS provides a simple but valuable rule that can help keep your child safe. You can find out more and download the free resources at www.nspcc.org.uk/pants.
Penguin and Ladybird have partnered with the NSPCC to create a brand new Pantosaurus book aimed at children ages 4 – 8. You can find copies of the new book on sale, either in Matalan's selected stores and online, selected SPAR stores or at https://shop.nspcc.org.uk/. All profits from the sale of this book will support the NSPCC.
Support the NSPCC
The NSPCC's Walk for Children event in December is another exciting way to get involved and helps make sure we are always there for children https://www.nspcc.org.uk/support-us/events-fundraising/runs-cycles-challenges-walks-treks/charity-challenges/walk-for-children/.
You may also be interested in the NSPCC's new selection of BUDDY goodies available from the NSPCC shop at https://shop.nspcc.org.uk/collections/buddy which make perfect gifts for children – and all profits go to help keep children safe.
Yours sincerely,
Mr. T. Mair
13th September 2021
Dear Parents,
Please click the following link Year 6 Heights and Weights letter to parents for more information from NHS Mersey Care, who need an understanding of how children grow across the country. 
31st August 2021
Dear Parents and Carers, 
Please click the following link Letter from Liverpool City Council 31.08.2021 for more information in light of changes made to national policies on self-isolation and to provide information on how COVID-19 will be managed in the school this term.
14th July 2021
Dear Parents and Carers,
We want to thank you for all your support over the last year in helping in the fight against COVID-19. We are hugely proud of all of you for working with us through what has been a challenging time for everyone. We know it has been a particularly difficult time for those that have experienced personal losses.
The Government have recently outlined their plan for the roadmap out of lockdown, with many control measures no longer being a legal requirement from 19 July. Locally, due to rapidly rising cases and hospital admissions from COVID-19 we are making strong recommendations to support national requirements. By working together we can keep everyone safe by reducing the virus spread.
Everyone, of any age, who tests positive for COVID using a PCR test is still legally required to isolate for 10 days, along with their household contacts. Over the summer, NHS Track and Trace may identify others that need to isolate. To reduce your risk of becoming infected or needing to isolate because you're identified as a close or direct contact we urge caution and strongly recommending the following:
Face coverings and social distancing
We strongly recommend that people continue to socially distance. Nationally, it is also expected that people continue wearing face coverings in crowded indoor areas where social distancing cannot be followed, such as supermarkets and on public transport, in health and social care settings, such as hospitals, care homes and GP surgeries, and where it would make others feel more comfortable.
Testing
Keep getting tested – We strongly recommend everyone should undertake twice weekly rapid symptom free testing using Lateral Flow Tests (LFT). If people experience general symptoms such as a headache, a stuffed or runny nose, tiredness or weakness, aches and pains, sore throat or diarrhoea, they should take an LFT and follow up with a PCR test if the LFT test is positive.
If people have any of the main symptoms of COVID-19 such as a high temperature, a new continuous cough or loss or change to their sense of smell or taste they must stay at home and book a PCR test. Around 1 in 3 people with COVID-19 don't have symptoms but can still infect others – so getting tested regularly will help slow the spread.
Handwashing and hygiene
It is essential that you maintain handwashing and hygiene to reduce your risk of becoming infected with COVID-19 and other illnesses.
We strongly recommend you:
wash your hands with soap and water often – do this for at least 20 seconds

use hand sanitiser gel if soap and water are not available

wash your hands as soon as you get home

cover your mouth & nose with a tissue or your sleeve (not your hands) when you cough or sneeze, and then,

put used tissues in the bin immediately and wash your hands afterwards
General Covid-19 advice
This guidance is available in a range of alternate languages: shorturl.at/zHJK6
If you have any of the main symptoms of coronavirus (COVID-19), get a PCR test as soon as possible. Stay at home until you get the result. The main symptoms of coronavirus are:
a high temperature – this means you feel hot to touch on your chest or back (you do not need to measure your temperature)
a new, continuous cough – this means coughing a lot for more than an hour, or 3 or more coughing episodes in 24 hours (if you usually have a cough, it may be worse than usual)
a loss or change to your sense of smell or taste – this means you've noticed you cannot smell or taste anything, or things smell or taste different to normal
People who are sick with coronavirus may have other flu-like symptoms such as:
     body aches; persistent headaches; sore throat; tiredness; shortness of breath; nausea or diarrhoea
If you don't have any of the main symptoms of coronavirus, you don't need to isolate until you get your result, however you do need to continue to take the usual measures to protect yourself and others from illness.