CURRICULUM
Religious Education
At St. Hugh's Catholic Primary School we teach Religious Education using Come and See which is a Catholic Primary Religious Education Programme.
Religious Education is the core subject which is central to life at St. Hugh's. 
Come and See is an invitation to exploration and a promise of life to everyone. The invitation is open to everyone. In response to the question 'Where do you live?' which was asked by the disciples, Jesus invited them to 'Come and See' (John 1:39). The disciples went with Jesus and spent the rest of that day with him.
Children are especially welcome. Jesus said to his disciples, 'Let the children come to me' (Mark 10:14).
Come and See offers the opportunity to search, to explore, to discover and to respond.
St. Hugh's is a rich and diverse community. During Jesus' life on earth he met people of diverse backgrounds and religious groups who were different from himself. He showed respect for those inside and outside his own faith community. We are committed to respecting people of other faiths and to recognise that God is at work within them. Come and See supports and enables the faith experience of all children because it starts with their real life experiences. We try to promote their human growth in such a way that they can integrate their own faith with every aspect of their lives.
Please click the link below for more information.
Year 1
We learned about our families and how God takes care of everyone.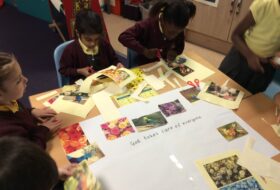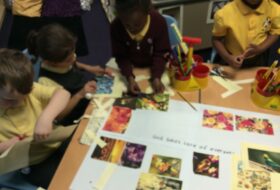 We have learned all about Baptism and how we are welcomed into God's family.