CURRICULUM
History
History Curriculum Statement
We aim to equip children with a coherent knowledge and understanding of Britain's past and that of the wider world. We will inspire children's curiosity to know more about the past. We will enable children to ask perceptive questions, think critically, weigh evidence, sift arguments, and develop perspective and judgement. Through our history teaching, we will empower children to understand the complexity of people's lives, the process of change, the diversity of societies and relationships between different groups, as well as their own identity and the challenges of their time.
At St. Hugh's, we believe it is important that children gain an understanding of chronology so that they can develop a sense of where they fit in along with a sense of identity and cultural understanding. They will then learn the value of their own and others' cultures. We have chosen our local history topics carefully to give the children an understanding of how events in the past influence modern Britain. The children will study Noel Chavasse and the effects of the Blitz in Liverpool. They will learn about the Williamson Tunnels and about the impact of the Liverpool Docks on immigration.
After reading 'Henry's Freedom Box' we wrote diary entries based on different characters in the book. As it was set a long time ago, we then scrunched up our writing and dipped it in tea to make it look ancient!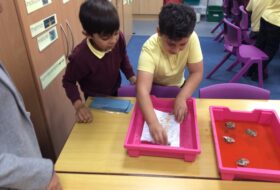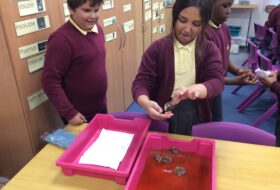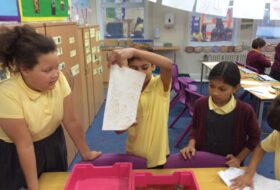 In Year One the children have been learning about the Gunpowder Plot. They have created a firework picture using paint and glitter to show Bonfire Night.