YEAR GROUPS
EYFS (Reception)
Welcome to Reception Class at St Hugh's Catholic Primary School. Our aim is to provide an enabling environment in which all children learn and develop well, with teaching and support from all adults. Every child is unique and has their own interests and needs, we support each child to build positive relationships and develop the confidence and resilience to become active learners.
Who's who in Reception?
Mrs S Baddeley – Class Teacher
Miss T Newport – Learning Support Assistant
Miss E Prince – Learning Support Assistant
Please click the following link for more information about, Learning and Development within EYFS
Early Years Foundation Stage Curriculum
When creating the curriculum our emphasis is on developing each child's communication and language skills, building and extending vocabulary and early reading. All of which will enable children to access and explore all areas of the curriculum and develop a life-long love of reading.
Please click on the following links for more information.  
Reception Summer 2,  Reception Summer 1
Reception Spring 2,  Reception Spring 1
Reception Autumn 2, Reception Autumn 1
Phonics in EYFS
The children begin the process of learning to read and write in Reception using Read Write Inc.
The children learn to:
read accurately and fluently with good comprehension

form each letter, spell correctly, and compose their ideas step-by-step.
Firstly, they begin the process of learning one way to read the 40+ sounds and blend them into words. Then they begin to learn to read the same sounds with alternative graphemes. They experience success from the very beginning. Reading books are closely matched to the children's increasing knowledge of phonics and 'tricky' words. As children re-read the stories, their fluency increases. When the children are ready, they are encouraged to take home the phonics books they have been reading in school to practise and consolidate their reading and phonics skills. You will be given more information about this at the appropriate time.
During Read, Write Inc. lessons, the children are also taught to write letters and simple words early on and build on their success. They write every day, rehearsing out loud what they want to write, and composing sentence by sentence, until they are confident enough to write independently. They use their knowledge of the alphabetic code and the 'tricky' words they have learnt. They practise handwriting every day: sitting at a table comfortably, learning correct letter formation and joining letters speedily and legibly.
Read, Write Inc. is taught daily throughout EYFS. Children are grouped according to ability and taught by a trained adult. The children are assessed every half-term and groups are re-arranged to ensure they are always making progress relative to their ability. Any child falling behind is given intensive support to ensure they catch up as rapidly as possible.
You can help your child at home with reading by:
reading daily to and with your child

making story time a fun and relaxing activity

re-reading familiar books in addition to introducing new stories

talking to the children about the stories

showing the children that you like to read too

following any advice given to you by your child's teacher
For more information please click the following link Parents Phonics booklet
How to help your child
Fun activities that you do with your child at home are important in supporting their learning and development, and can have a really long lasting effect on your child's learning as they progress through school. Even when your child is very young and not yet able to talk, talking to them, helps them to learn and understand new words and ideas. Making the time every day to do some of the following things with your child will make a real difference:
 – Sing songs and nursery rhymes
 – Count together e.g. count stairs
 – Cook/bake together
 – Explore the park
 – Talk to your child
 – Talk about what you can see when going to the shops.
Listening to stories is crucial to your child's language and vocabulary development. It will help them to develop a lifelong love of books. Click on the following links to some stories your child can listen to.
Storyteller videos: Traditional Tales
What we have been doing in Reception Class
We enjoyed a lovely day at the beach, we were  building sandcastles, digging for treasure, paddling in the sea and collecting shells to write our name. After a picnic on the grass, we met a mermaid. Everyone enjoyed exploring the beach in preparation for our new story – The Storm Whale.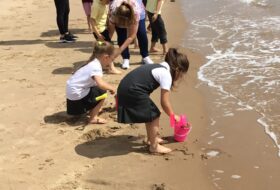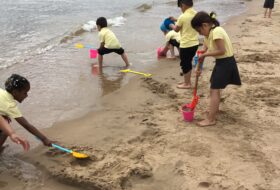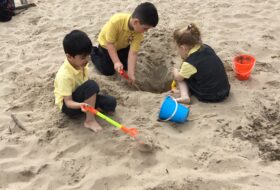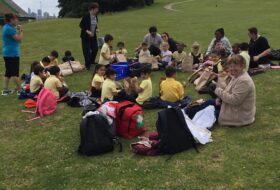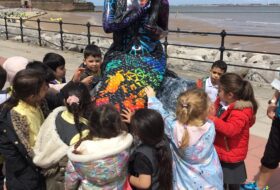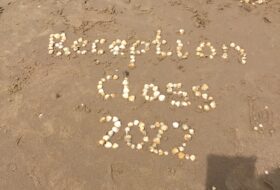 Reception class visited the park to hunt for minibeasts. Everyone enjoyed using magnifying glasses to look under logs, in the soil and on the trees. A few of the minibeasts we found were ladybirds, worms, ants, slugs and beetles.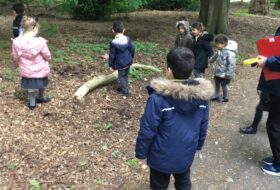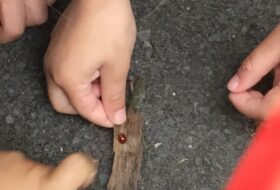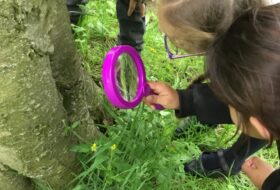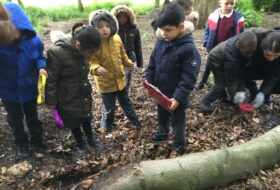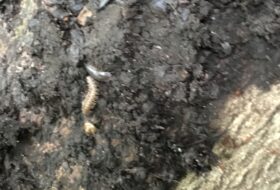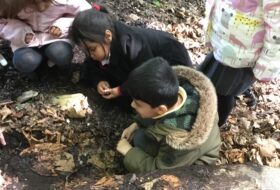 One of the older children had picked some rhubarb from our school garden and our cook was going to use it to make a rhubarb pie. Reception class went to watch the pie being made. After it had been cooked Reception children really enjoyed tasting the home-made pie.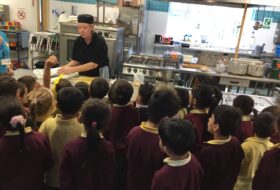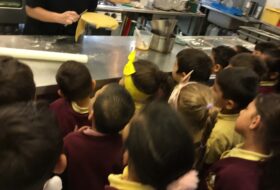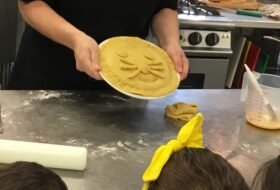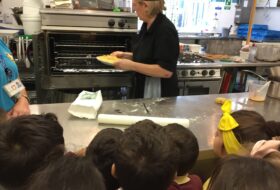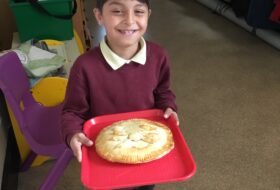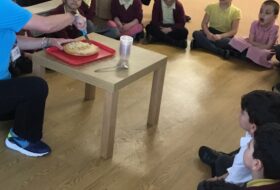 We have released the butterflies into the garden.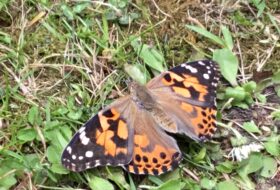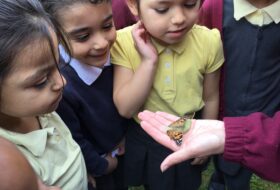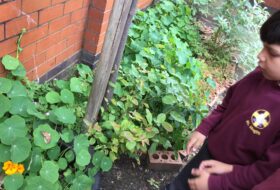 We now have butterflies in Reception class.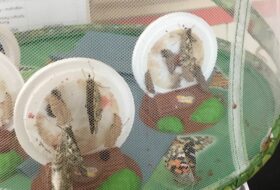 Reception's caterpillars have finished eating the food and are now inside their cocoons. Hopefully we will soon have butterflies.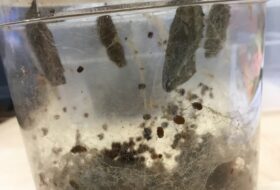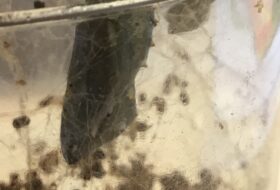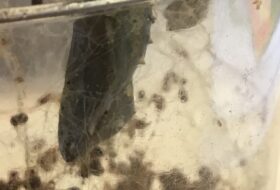 We listened to a story, sang nursery rhymes and enjoyed exploring the range of books in Toxteth library.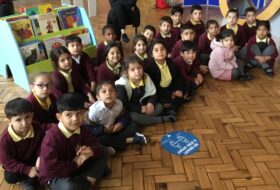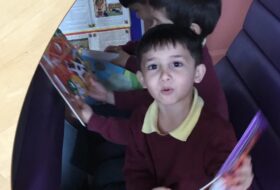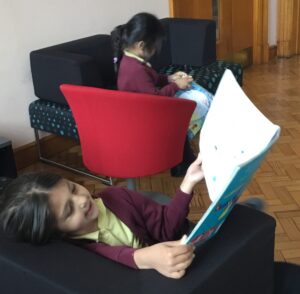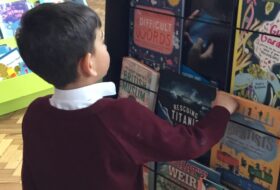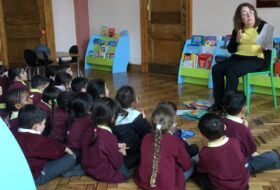 This week during parent/carer story time we had fun making ladybirds of all different colours. The story we read was called Lucy Ladybird written by Sharon King-Chai.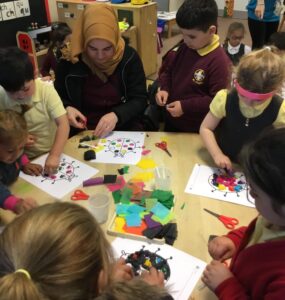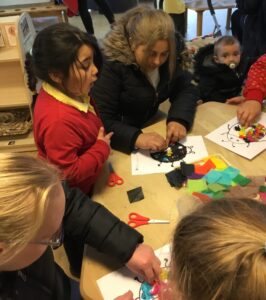 Tiny caterpillars arrived in Reception class last week. We can see that they have already started to grow.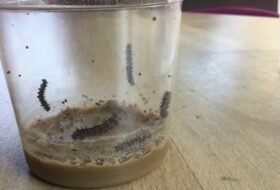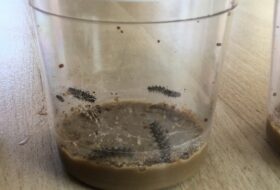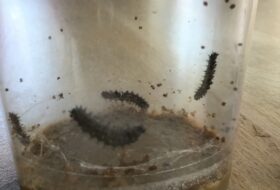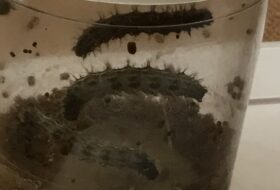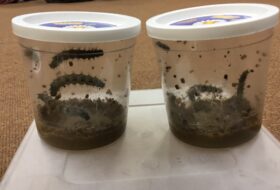 This is Reception's reading garden, where children can enjoy looking at books in the sunshine.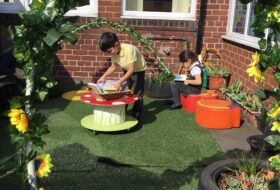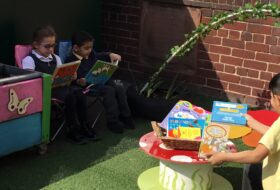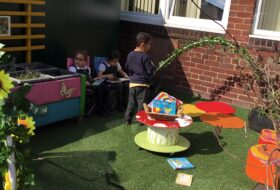 Storytime with Parents
Reception parents/carers have been joining us once each week for fun storytime sessions. Mrs Baddeley reads the children a story and then the children complete an activity with their parent. This week, the children had fun with We're Going on a Bear Hunt by Michael Rosen.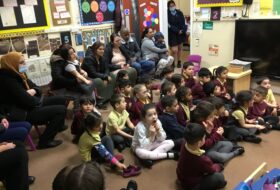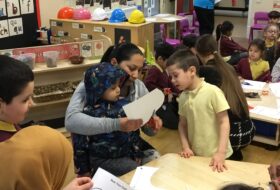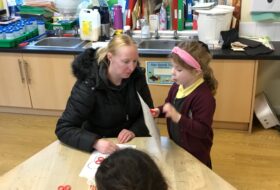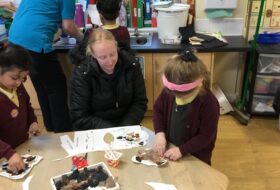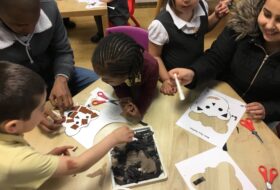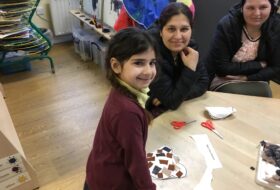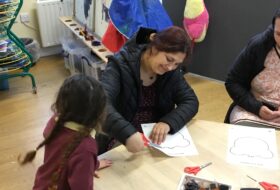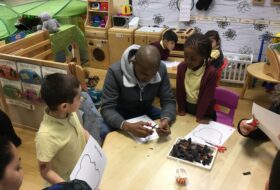 Reception class enjoyed a lovely day at the farm, we saw animals including pigs, cows, sheep, goats, horses, guinea pigs and rabbits. We all fed the sheep, goats and pigs and took turns to groom the pony.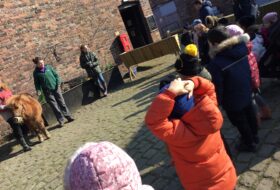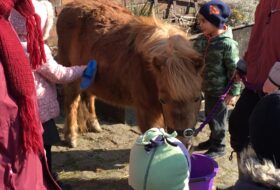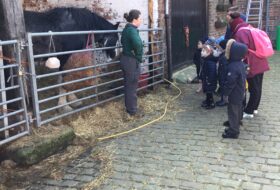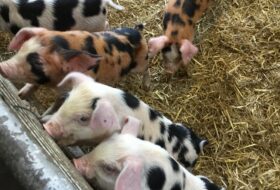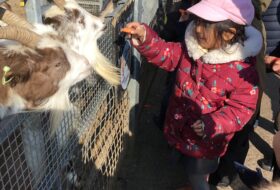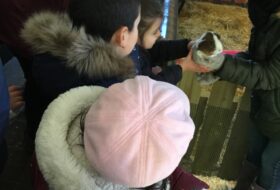 We have been learning how to stay safe while crossing the road. Many of us wore Blue to signify 'Slow Down for Bobby' day.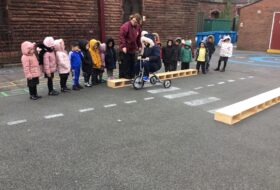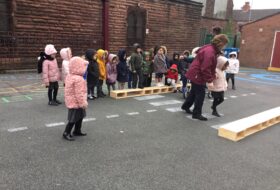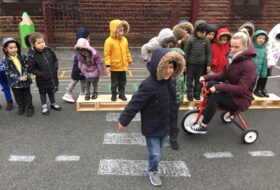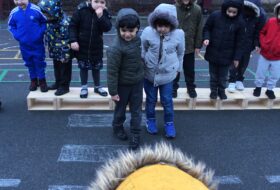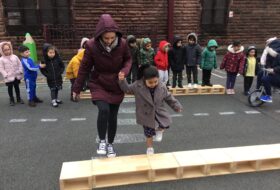 "Reception class visited Sefton Park. We explored a cave, where we found oozy mud on the ground. Then we carefully walked across the stepping stones and saw a lot of birds, swans, geese and ducks. There were lots of trees in the park and we found a house, or maybe a castle through the trees.
Everyone enjoyed their trip to the park."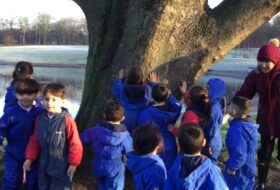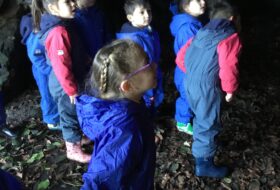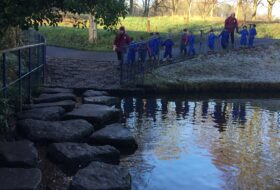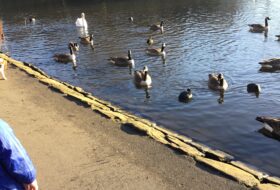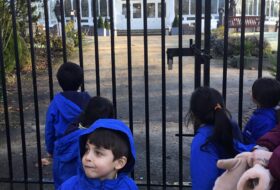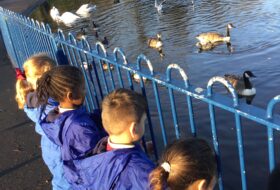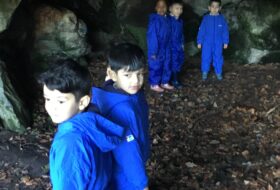 "In Reception class the children have been learning about how we brush our teeth. 
Please talk to your child about what is in the pack they have brought home, which includes a toothbrush, toothpaste, stamp chart, stamp, information & advice, and a QR code to a song. QR code instructions for toothbrushing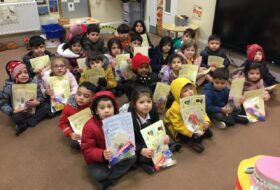 Please support your child to brush their teeth twice a day and use the stamp and chart to encourage them to continue to do this every day."
Some of our parents have been taking part in our 6 weeks course which helps them understand how their children learn and gives them ideas to try with their children at home. They have been having lots of fun with us!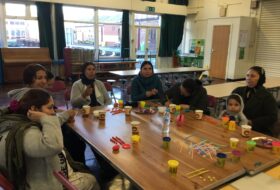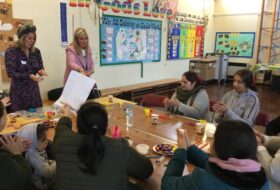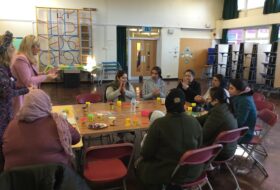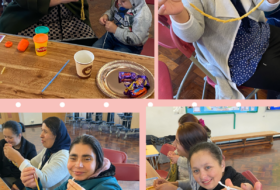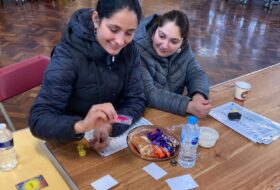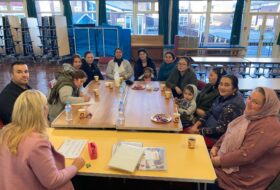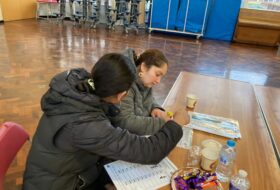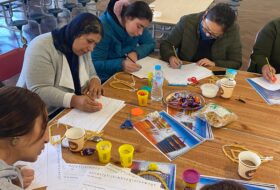 We collected leaves, found the owls sitting in a tree and listened to a story.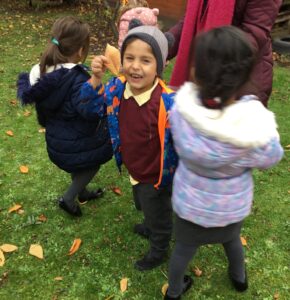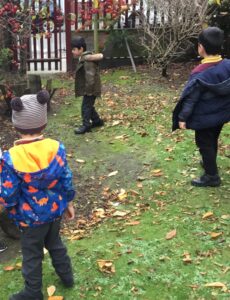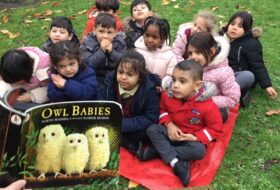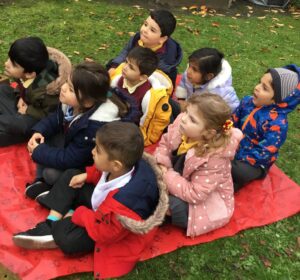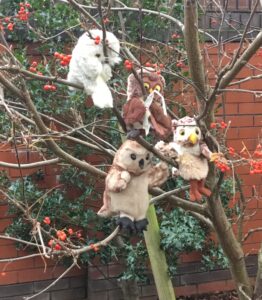 We have been counting and recognising numbers.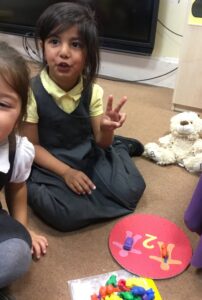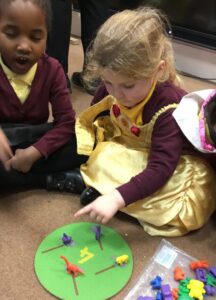 Retelling the story, We're Going on a Bear Hunt.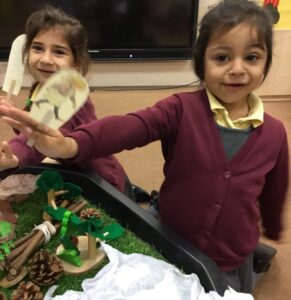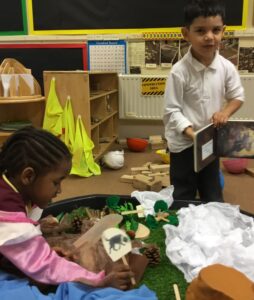 'We found bear prints in our classroom and decided that the bear may be hungry. We talked about what bears like to eat. Later we read the story We're Going on a Bear Hunt.'