Religious Education
Catholic Life
Catholic Life at St. Hugh's
Our Mission Statement underpins our vision for the Catholic Life of our school.
We work to provide a stimulating and interesting environment where children have the ability to develop their talents to their full potential.
We work to develop all children by widening their contribution to the life and work of the school, in partnership with parents and the parish community. This is done in accordance with the teachings of the Catholic Church.
We promote consideration and respect for all others regardless of race, culture, gender, disability or beliefs. This is strengthened by our links with charities such as CAFOD, Good Shepherd and Malawi.
We have a variety of celebrations such as masses, assemblies and musical events throughout the year. Children's efforts and achievements are recognised, celebrated and rewarded regularly.
We welcome visitors into our school on a regular basis, including those of different faiths and beliefs.
We are developing links with the parish and other schools. Our Gospel Choir and joint 'With You Always' Sacramental Programme further strengthen links between our school and another school in the community.
All children take part in Collective Worship on a daily basis. Y6 children have the opportunity to develop spiritually and morally when they take part in a retreat.
Our 'Be a Friend' initiative enables new children to adjust quickly to life in our school as elected volunteers welcome them and provide support as they settle.
The Parish of St Clare & St Hugh Mass times.
Please click on the link below for more details
Mass times and contact details
Working with the Sisters from the Faithful Companions of Jesus
We have been working with Sister Maryann and Sister Marie from the Faithful Companions of Jesus (FCJ) who are located at the Presbytery of St Hugh, to plan our School Mass to honour St Hugh on his feast day.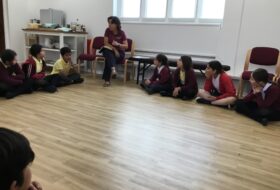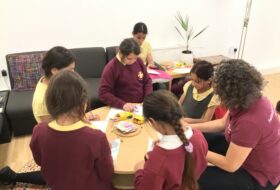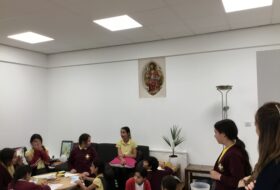 The Feast of St Hugh of Lincoln
We invited local parishioners from St Clare's and St Hugh to celebrate Mass with us to honour St Hugh on his feast day. Year 6 stayed after mass and had refreshments and chatted with our guests. These are some of the comments we received, 'your children are lovely and so well behaved', 'this lot are smashing', 'the singing by the children was beautiful' 'it was a pleasure to meet with the staff and children  afterwards'.