YEAR GROUPS
Year 5
Welcome to our Year 5 page. My name is Mr Bruce and I am the class teacher.
I am supported by a Learning Support Assistant, Mr Eisaie.
In Year 5 we learn to give things a go and not feel worried when we make mistakes. We always try our best and are respectful to everyone. We understand we are getting older and are starting to be role models for the rest of the school. Our library day is Wednesday. We can sit and read in the library and borrow a book every week. We have many opportunities to read for pleasure.

Click on the link below to see the Year 5 Long Term Plan:
PE is on Tuesdays. We provide a PE kit for every child but s/he will need pumps or trainers. Swimming is on Wednesday (Autumn & Summer term only).  Every child will need to have a swimming costume, a towel and a swimming cap.
Please ensure your child arrives in school at 8.45am every day in full school uniform and black shoes. Long hair must be tied back and plaited please.
If you have any questions about Y5, please make an appointment at the office to see Mr Bruce.
What have we been doing in Year 5?
In science we investgiated water resistance. First we thought about what makes an object float or sink. Is it the material it is made out of or the shape? Then we used plasticine to investigate what the best shape would be if we wanted to make it float. We realised that a flat pancake shape is the best. This means the larger surface area a shape has, the better it will float.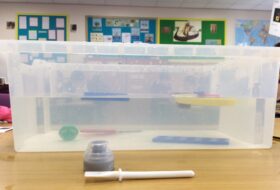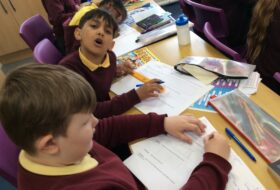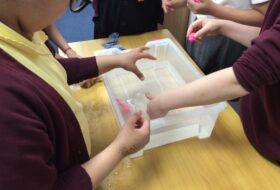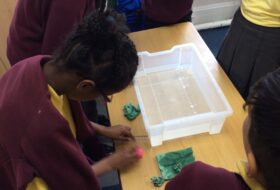 We are going to make our own torches! First we looked at some real life examples and took them apart to see how they worked. Next we remembered what we learned in Year 4 about electricity and began to design a circuit. Our next steps will be to think about what materials we will need and then make it!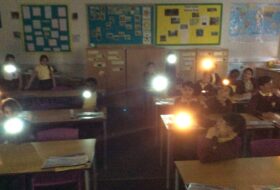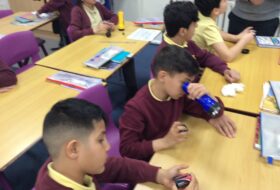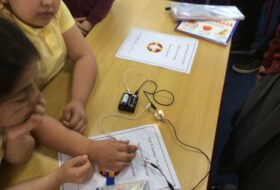 For our topic on fieldwork in Geography we went to Sefton Park on a very beautiful and sunny day. We used maps to figure out where we were and looked at the human and physical characteristics. We found a huge tree that had fallen down and investigated what happened to it!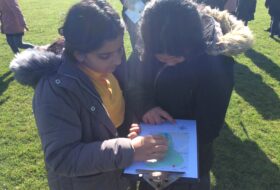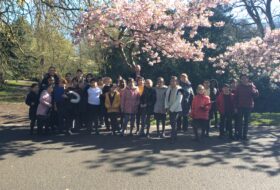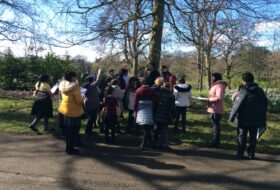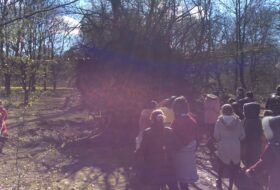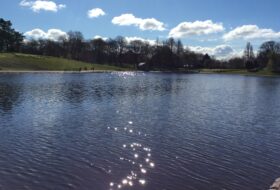 On World Book Day, Year 1 were kind enough to invite us to read with them. We loved sharing stories and asking them to pick their favourite books.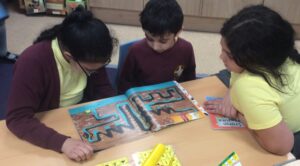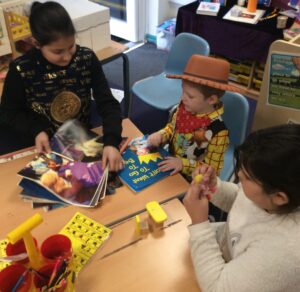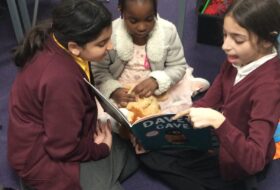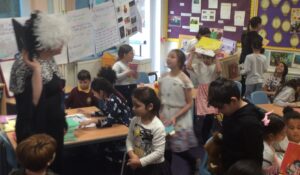 Drama – We read The Promise by Nicola Davies and pretended to be pickpockets.
Maths – As part of our learning about area, some of us measured the space inside the whole playground!
Science – We mixed bicarbonate of soda and vinegar together to learn  about irreversible changes.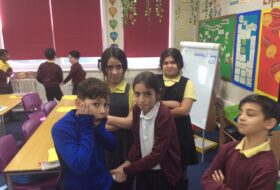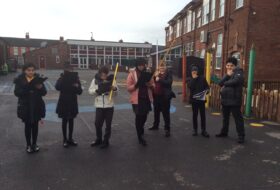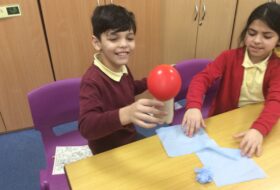 Y5 enjoyed a very special visit from two authors this morning, Jasmine Richards and Emma Norry. Each child received a copy of 'Happy Here' which is a compilation of stories from black British authors and illustrators. The children read with the authors and were able to ask lots of questions. Jasmine and Emma were kind enough to sign the books for all the children. We thank the BookTrust for arranging the visit for us.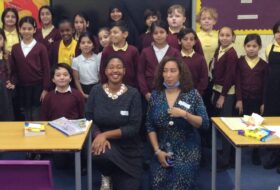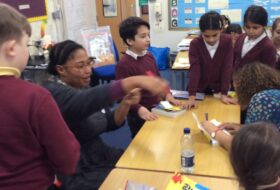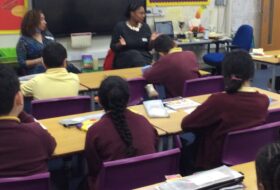 In reading we read different examples of free verse poetry and performed them to each other.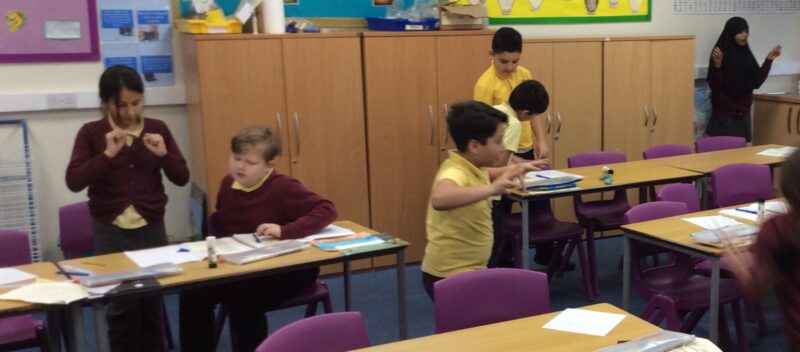 We designed and made flags in D.T. using a pulley system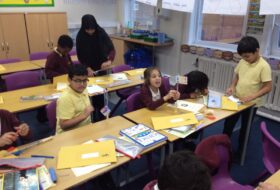 Our Spanish teacher came in and we learned the names of different items of  clothing while we played games.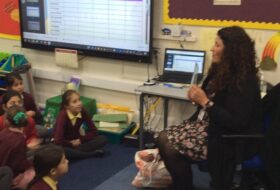 We created tessellation patterns in Maths and coloured them in using oil pastels.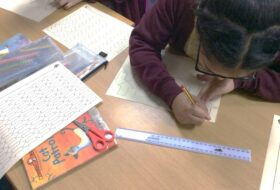 We carried out an experiment in science to test the strength of different types of tape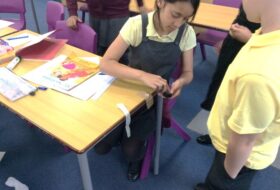 We went on a trip to Calderstones Park to learn about the ancient history of our local area.