YEAR GROUPS
Year 1
Welcome to our Year 1 page. My name is Miss Burrows and I am the class teacher.
I am supported by 2 Learning Support Assistants, Miss Hasan and Miss Zindani.
In Year One, the children are read to every day. They enjoy listening to and talking about a variety of stories, poems, rhymes and non-fiction. They are learning phonics every day so that they will be able to read on their own too. It is very important that you read to your child regularly at home and talk to them about stories they know.
In P.E. the children have been learning basic skills such as finding a space, running, hopping and jumping.
PE is on Mondays and Wednesdays. We provide a PE kit for every child but s/he will need pumps or trainers.
In Maths the children learn to say, read and write numbers. Numbers are everywhere! Look for them in your house or on the walk home from school.
Please ensure your child arrives in school at 8.45am every day in full school uniform and black shoes. Long hair must be tied back and plaited please.
Please click on the following link for more information.
Listening to stories is crucial to your child's language and vocabulary development. It will help them to develop a lifelong love of books. Click on the following links to some stories your child can listen to.
Jackanory Junior
Storyteller videos: Traditional Tales
If you have any questions about Y1, please make an appointment at the office to see Miss Burrows.
Year 1 Imagine That!
Year One went on a school trip to Imagine That! We really enjoyed our day – there were lots of areas to explore – dressing up, art and a science area. We made instant snow, slime and a fridge magnet. What a fantastic day! Look at what fun we had.
What have we been doing in Year 1?
Please have a look at our Christmas song.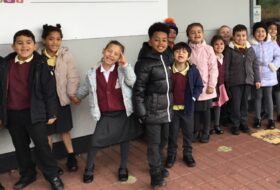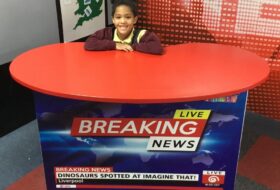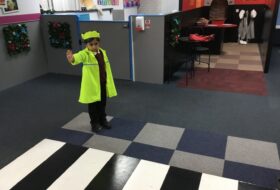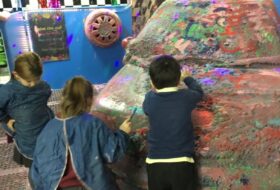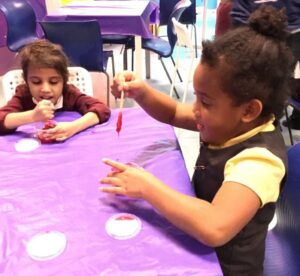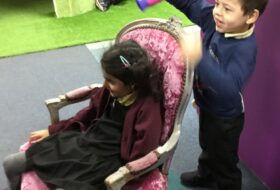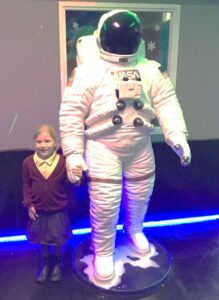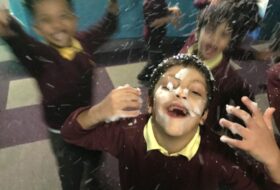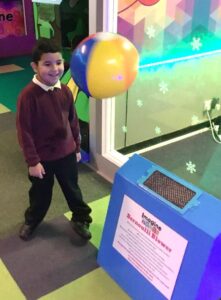 Maths: We are learning about capacity using different containers. We compared weight using the language 'heavy' and 'small' We are continuing to count in different ways.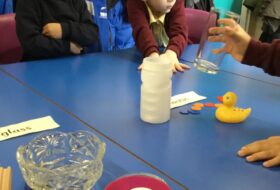 Science – Everyday Materials Lots of objects in our classroom are made out of various materials. We found tables made from wood, our chairs have metal legs, the Lego box is made from plastic and the classroom windows are made from special glass. What objects can you find at home? What materials are they made from?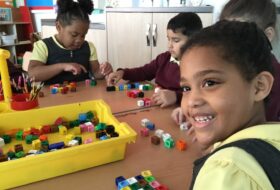 Geography: We have just begun our topic on 'Oceans and Continents' So far we have found out that we can explore the world using a globe, map and Google Earth
Phonics: In Phonics the children follow the Read Write Inc programme. They are learning new sounds every day. This helps the children to read books, spell and write words and sentences.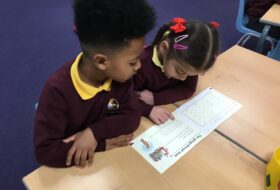 Maths: Counting and number recognition – The children have been learning to count and recognise numbers. Numbers are everywhere! We went on a number hunt around school and found lots of different numbers – on a post box, on doors, telephone numbers, on a clock and on the Year One calendar.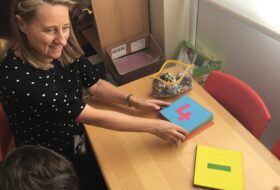 Science: Animals including humans – We have been investigating our bodies. We played 'Simon Says' to learn our body parts. Next, we drew around our bodies and then labelled them.